St. Paul's Church Office Hours
Tuesday – Thursday: 8:30 am to 3:00 pm
Closed for lunch from 12 – 12:30
You may contact us by phone 705-324-4666 or email office@st-pauls-lindsay.ca.
Live Stream Services
Our services are now back in the church and our  livestream videos resume for "Welcome Back Sunday".  Click here to go to our YouTube channel.
The 100th issue of The Grapevine is here!
Wow, 100 issues.  This issue has a lot of news for our parish and you can read it all here.
Tower of Tins Food Drive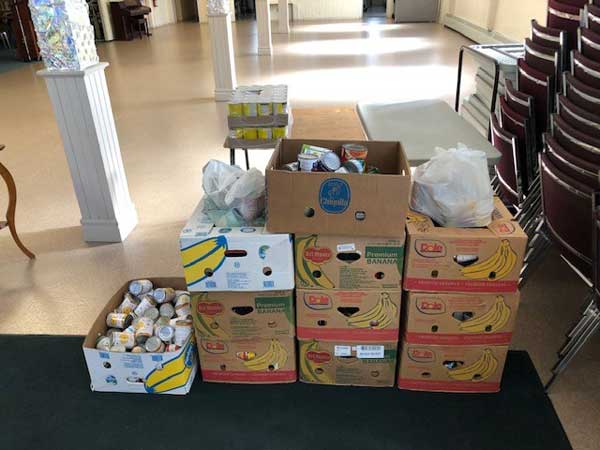 This year, Reverend Bonnie established a target of 450 (last year's total) tins of protein and/or veg to be donated to the Tower. Extremely happy to report that through the collective generosity of the St. Paul's community, Kawartha Lakes Food Source received 600 items of food to support their 15+ community groups across the region !!! A special thanks also goes out to Lindsay Tai Chi for their contributions. As an FYI, this is separate from the donations of fresh produce for our Harvest Thanksgiving service. Those donations will be delivered separately.
Designated Givings

# 215 for the month of  October will be in support of Faith Works. This is an outreach program of our diocese supporting partners like Lindsay's A Place Called Home; also people who are physically or mentally disadvantaged, at risk women and youth and struggling minorities. Here is a way to express our compassion and give hope to people living on the margins of our world
Upcoming Events
Faith & Friendship is restarting Monday, October 17, 2022 for 4 nights until our Advent Sessions. The group is open to everyone and those who attend have fun while seriously looking at issues that affect our spiritual development. This Group starts at 6:30pm on zoom for chat and 7:00pm-8:30 for small group discussion. Each week a new topic is chosen by the group from the book by Joan Chittister called "The Gift of Years" – Growing Old Gracefully. If you want to have your own copy, this older book is available on Amazon. Please call the office to register with your email or talk with Donna Gushue to learn more.
Friday October 21, 2022 – Quilt Raffle!  Buy your tickets at the church office.

Mystery Dinner – Friday, October 21, 2022.  A four course dinner catered by Diane's Country Cooking & Catering.  We will have a Wine & Beer Bar.  Purchase tickets ($65 per person) at the church office.

Sunday Services

Online services are usually live streamed on Sundays at 10am on  St. Paul's YouTube channel, but are on hold for the moment while we purchase new equipment.  We will announce when we have live streamed video again.
They are then available on Mondays here on our sermons page.  Please consider subscribing to our YouTube channel and Facebook page.  Please visit our sermon page to watch current and past sermons/services.
You can also get an alert when we go live, click on the bell to the right of the subscribed box. Our YouTube channel is at
http://bit.ly/stpaulslive We look forward to seeing you there!

Donations
Consider giving the same amount that you would normally give while in church as a Pre-Authorized Remittance (PAR). Fill out the form here with whatever you can manage. And you can get it to us in a few ways: print off, fill out, and either:
A) mail into the Church office
B) drop off at the church during office hours
C) use the Locked mail box on the wall of the Russell St W. door
D) Call the office and ask for their form to be picked up
E) For the digitally savvy, scan the form, and attach it to an email and send to the office at office@st-pauls-lindsay.ca.
For one off donations, you can use Paypal, below.
Thank you.