St. Paul's Church New Office Hours
Monday to Friday 9am to 1pm
Designated Givings

Designated Givings #215 for December 2023: is in support of Kawartha Lakes Food Source. As Christians have always done, we feed the hungry and we know the need this winter is even more greater than ever. Our monetary donations help the Food Source fund nutritious things like fresh produce, milk and eggs and fund the cost of breakfast programs in our schools.
News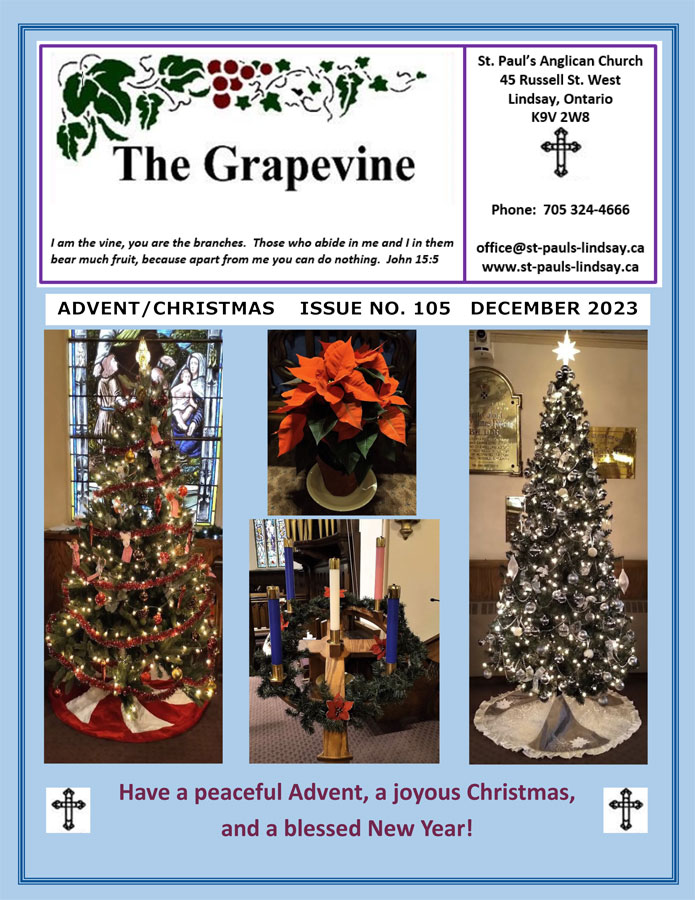 Advent/Christmas Grapevine is available online!
The Grapevine has been sent to the printers, but you can read it online here. Enjoy!

Our Memorial Angel Tree is back
This Year Angels are being sold in memory of loved ones, with proceeds going to support St. Paul's pantry, for a minimum donation of $5. During Advent, you can purchase an angel, and the name of your loved ones will be attached to it , on a tag. Then the Angel will be placed on the Christmas tree at the front of the nave. In Epiphany, angels can be collected and taken home.
Upcoming Events
Advent Study
Our Advent Study begins via Zoom on Monday November 27th in Faith & Friendship fashion : 6.30pm for fellowship and 7.00 pm for study time, finishing by 8.30pm. A small number of books will be available in the office for $20, or via Kindle for $10. Please speak with Rev Bonnie for more information.
 December 10th, 2023 – Christmas Tea & Organ Recital
featuring Alex Ripley with prelude on piano by Myrna Sloboda.
– Christmas tea 2:30 – 3:30
– Carol Sing with Myrna 3:30 – 4pm
– Organ Recital 4pm
Cost: $15 in advance for tea and recital, $10 at the door for the recital only. Tickets available at the office
Our Christmas dinner will be an in-house event with dinner being served at 4:30. Covid protocols will be in place, with masks being worn when one is not eating.
Ten tables will be set up on each of the main and upper hall floors to avoid crowding.
The church phone system is set up to take seat reservations (#6) and requests to volunteer help (#7). Please tell anyone asking you about attending (or volunteering) to call in and get their name(s) on the list(s). In providing food and fellowship we feed both the body and the soul by hosting this event for our community.
If you have any questions please speak to Paul Carpentier.
2024 Church Calendars will be coming soon at a cost of $5.00.
St Paul's Pantry in Winter We have put together a list of foods suitable for
winter in the cupboard. Below are some ideas. A full list will be available in the Booklet and in the main hall . Some suggestions are below: Peanut butter, Dried beans, Beef Jerky, crackers, fruit cups, cup a soup, cup a noodles. Pablum. Toiletries such as toilet paper deodorant, soap, feminine hygiene products.
We thank everyone who contributes to the St. Paul's Pantry. You can see the original list of foods to donate here.
Sunday Services

Online services are usually live streamed on Sundays at 10am on  St. Paul's YouTube channel
They are then available on Mondays here on our sermons page.  Please consider subscribing to our YouTube channel and Facebook page.  Please visit our sermon page to watch current and past sermons/services.
You can also get an alert when we go live, click on the bell to the right of the subscribed box. Our YouTube channel is at
http://bit.ly/stpaulslive We look forward to seeing you there!

Donations
Consider giving the same amount that you would normally give while in church as a Pre-Authorized Giving (PAG). Fill out the form here with whatever you can manage. And you can get it to us in a few ways: print off, fill out, and either:
A) mail into the Church office
B) drop off at the church during office hours
C) use the Locked mail box on the wall of the Russell St W. door
D) Call the office and ask for their form to be picked up
E) For the digitally savvy, scan the form, and attach it to an email and send to the office at office@st-pauls-lindsay.ca.
For one off donations, you can use PayPal, below.
Thank you.