Church Office Hours
Monday – Thursday: 8:30 am to 3:00 pm
Friday:  8:30 a.m. 12:30  p.m.
You may contact us by phone 705-324-4666 or email office@st-pauls-lindsay.ca
DESIGNATED GIVINGS # 216 for the month of October will be in support of Doctors Without Borders, who speak and act in the language of caring and service. When our hearts go out to far away places where people are suffering deadly diseases and disasters, these skilled and courageous men and women are the answer to our prayers.
Note from Bishop Andrew on COVID19 Protocols
Excerpt from letter from Bishop Andrew (Friday October 15, 2021)
As a next step, as of today I am permitting worship leaders (preachers, readers, and intercessors) to remove their masks indoors for liturgical speaking. Only one person may unmask at a time, and the unmasked speaker must be stationary and physically distanced from others by a minimum of 4 metres. Presiders at the altar, whether speaking or singing, must remain masked when the elements of bread and wine are before them, and during the distribution of holy communion. The congregation and all singers, including clergy if singing the liturgy, must always remain masked. This new policy should be explained to the congregation. We also recognize that if circumstances change and health protocols are tightened, then the mask will need to be worn once again. We take one step at a time. To read the full letter, click here.

Director of Music – Applications for Position
The parish of St Paul's, Lindsay is seeking a talented Director of Music.  Please click here for full details of the position, and application deadline.
Rev. Bonnie & the Wardens
St. Paul's Bible Study – Every Wednesday morning
New Study Group
A new study group is in the works, with plans to begin on Monday evenings via Zoom this Advent. The Spiritual Development Committee has selected the book "The Redemption of Scrooge" to discuss this year.
Books will need to be purchased ahead of time, and will be organized by Rev Bonnie. They should be about $15.
Please contact the church office if you are interested in ordering a book and joining the group.
RSVP by November 3rd
The Grapevine
The Fall edition of The Grapevine is now available to read on our website.  We hope you enjoy catching up with all the past and upcoming events we hope to be able to have.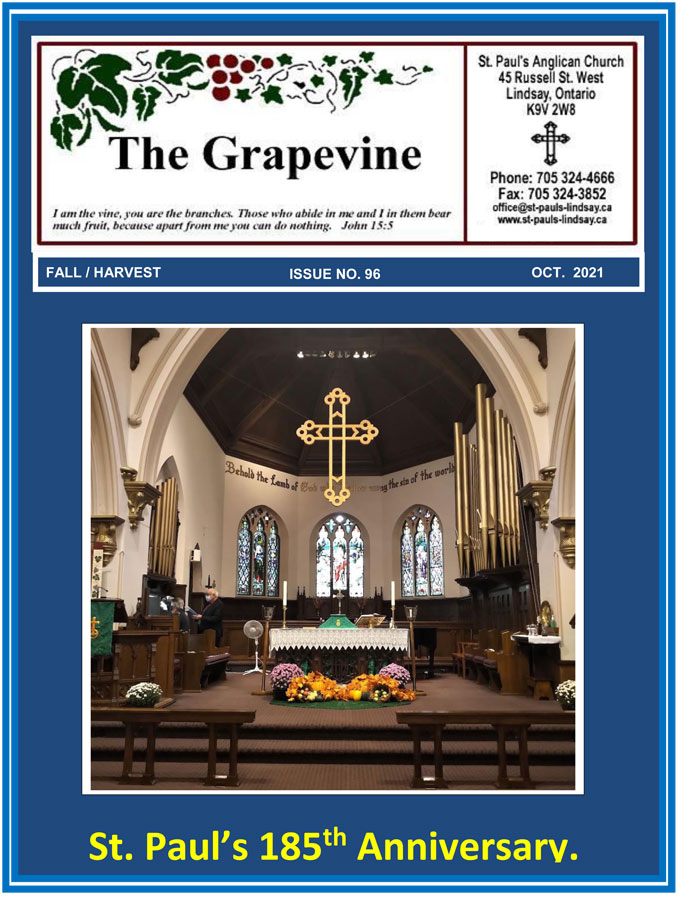 Sunday Services
Notes about our Reopening of Church Services

St. Paul's has been able to offer in-church services again since Sunday, August 15th. In preparation for our opening, the reopening committee prepared a document about COVID 19 protocols.  It is available to read here.  Please call the office to register that you would like to attend services.  Spaces are limited until we have the official okay.
Online services are now  live streamed on Sundays at 10am on  St. Paul's YouTube channel, They are then available on Mondays here on our sermons page.  Please consider subscribing to our YouTube channel and Facebook page.  Please visit our sermon page to watch current and past sermons/services.
You can also get an alert when we go live, click on the bell to the right of the subscribed box. Our YouTube channel is at
http://bit.ly/stpaulslive We look forward to seeing you there!

Questions or concerns?
Call one of our Wardens: Jo-anne (705) 324-6057 or Lorna (705) 344-1746.
Upcoming Events
What a wonderful idea, that we will eventually have events again! We are hoping that we can start having in person services again and having our fun fundraising get-togethers. Here are a few things to plan for if pandemic regulations allow.
8th Annual Mystery Dinner Theatre – November 6, 2021
Join us on Saturday November 6, at 7pm for the long awaited return of our Mystery Theatre and Dinner!
-4-course dinner with St. Paul's Players entertaining you between courses.
-takes place at Celebrations, 35 Lindsay St. N.
-Cost is $65 per person
-Double vaccination and ID will be required at the door.
November is 185th anniversary of our church. The first recorded service at St Paul's was held on November 27, 1836.
Donations
Consider giving the same amount that you would normally give while in church as a Pre-Authorized Remittance (PAR). Fill out the form here with whatever you can manage. And you can get it to us in a few ways: print off, fill out, and either:
A) mail into the Church office
B) drop off at the church during office hours
C) use the Locked mail box on the wall of the Russell St W. door
D) Call the office and ask for their form to be picked up
E) For the digitally savvy, scan the form, and attach it to an email and send to the office at office@st-pauls-lindsay.ca.
For one off donations, you can use Paypal, below.
Thank you.