Office Hours
Monday – Thursday 8:30 – 3 pm
Friday 8:30 am – 12:30 pm
Buy your Tickets now!  Lindsay's Christmas House Tour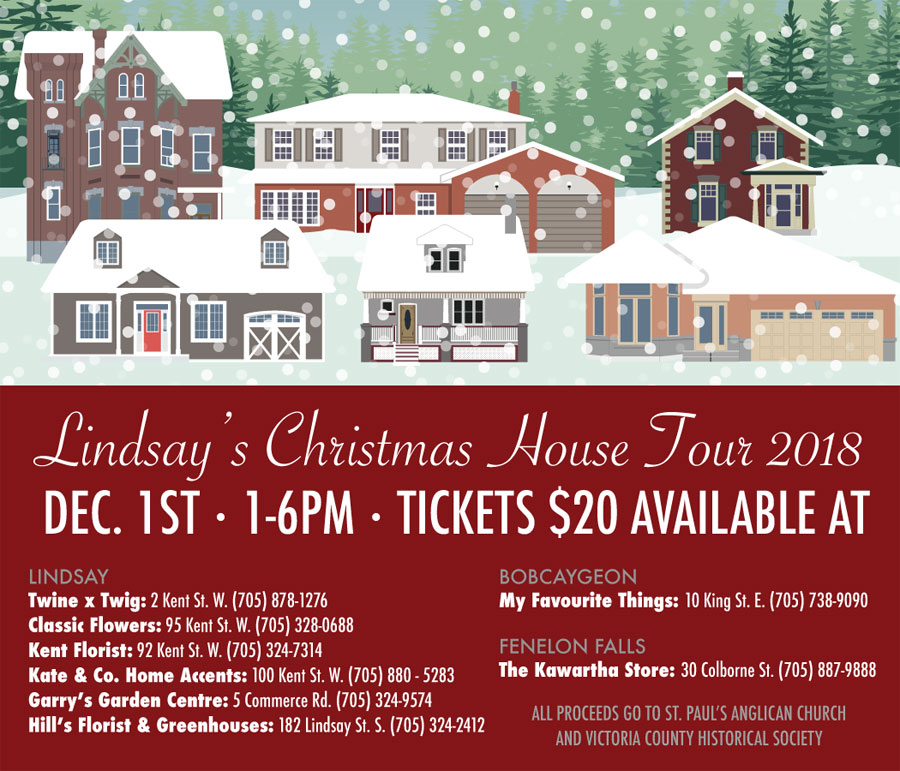 For more information on all of the locations that will be open to the public, please visit here.
Volunteers Needed!
For many years now St. Paul's has depended on our fundraising events to maintain our church – and we think we've become pretty good at it.  However, as time passes, it is becoming more and more difficult to find enough volunteers to ensure the success of these events.
If not already volunteering at some events, could you assist at our Strawberry Supper, our Fair Booth, Market Day, or some other event?  Do you know of anyone who would volunteer – a student, a neighbour, a friend? We do work hard at these events but we have a lot of fun as well.
Please call Ray Marshall at 705-878-8653, or email to rayemarshall53@gmail.com to see how you could help your church.
Events at St. Paul's
Don't forget that St. Paul's has a lot of activities that can't all be mentioned on this page!  To see all that is coming up, look at our weekly bulletins on our Bulletin page.  We have a handy large link at the bottom of this page.
ST. PAUL'S COFFEE CLUB, Wednesdays 10:00 a.m.  till 11:15 a.m.
Drop in for a cup of coffee, or tea, and a friendly chat when you have time and stay for as long as you wish.
The Season of Hope – Join Rev. Warren for a 4 week journey leading up to Advent.We will explore Old Testament prophecy as well as the visits of the Archangel Gabriel to Zechariah foretelling the birth of John the Baptist and the visit to Mary and the promise of the birth of Jesus.
Tuesdays November 6, 13, 20, 27 from 7-8 pm.
We meet  in  the Parish  hall. Cost: Free. Bring a friend !

For all committee events, see our Bulletin page for the updated items.
Self Guided Walking Tour of St. Paul's
Visitors coming this summer? Bring them to the church during office hours and let them look at the stain glass windows and other details of the church or a time to show your friends the church that you attend. We have self-guided pamphlets available at the church entrances to assist in the tour.