Events at St. Paul's
Don't forget that St. Paul's has a lot of activities that can't all be mentioned on this page!  To see all that is coming up, look at our weekly bulletins on our Bulletin page.  We have a handy large link at the bottom of this page.
Office Hours
Monday – Friday 9 a.m. – 3 p.m.
Fall Grapevine is now available
Take a look and read, or download if you like here.
Youth Ministry Announcement
Our youth minister, Dan Farmer, would love to have the opportunity to meet you at one of our youth nights which currently run every Tuesday night from 4 PM until 8 PM and include a wide variety of activities to feed body and spirit. This group is dedicated to building a healthy and safe community founded on the values of trust, kindness, respect, friendship and a growing relationship with Jesus Christ. For more information, visit our Bottomline page on our website.
Events at a Glance
Blessing of the Animals – Sunday October 2 – 11:14 a.m.
Bring your pet to the courtyard this coming Sunday.
Life's OASIS – Come by the Church anytime during office hours and experience a personal Quiet time of Prayer.
Pastoral Visitors Workshop – October 15, 2016
Registration Cost – $5.00, please contact the office at 705-324-4666
24th Annual Mystery Dinner.  – October 22nd, 2016
$40.  Tickets available at the office or with Barb Truax after the service.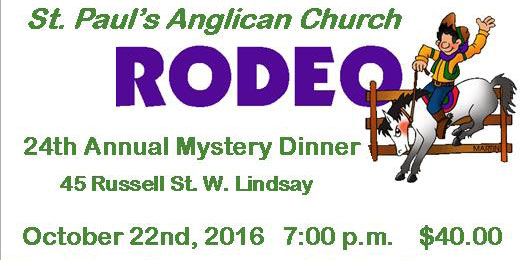 Self Guided Walking Tour of St. Paul's
Visitors coming this summer? Bring them to the church during office hours and let them look at the stain glass windows and other details of the church or a time to show your friends the church that you attend. We have self-guided pamphlets available at the church entrances to assist in the tour.