Rector's Warden
Don Chase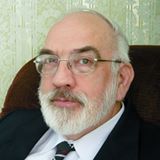 Don Chase was born in St Joseph's hospital in Peterborough, and is the second youngest of six children who were raised in Omemee and then moved to Lindsay in 1970. Don attended Lady Eaton PS in Omemee, and Lindsay Collegiate and Vocational Institute where he took part in the Science and Technology program.
George Morris (a St. Paul's parishioner) was his machine shop teacher there for four years and he gives him a lot of credit for his career choice. He graduated in 1973, and was one of the fortunate few that had a full time job offered to him at John McCrae Ltd.: He stayed for five years in mechanical drafting and design. In 1978 he was hired at Bonar Plastics as a welder / fitter and obtained his General Machinist diploma from Fleming College in Peterborough. He was at Bonar Plastics for ten years; and then moved to a position of machinist at Binney and Smith (Crayola) Canada for a total of twelve years.
He lost his job 1998 due to their down-sizing and started his own business, 'Don's Machine Shop Services' where he will be starting his 44th year in the "Skilled Trades".
The family attended Christ Anglican Church, Omemee, where he sang in the choir when about 12 years old. In 1978 he was inspired to join the choir at St Paul's Anglican, Lindsay after hearing a group of their singers. He joined the College Community Choir in 1979.
Don's hobbies are photography and working on restoring a 24 foot cedar strip steamboat once owned by Walter G Humphries of Lindsay. Walter's brother Tom and his wife Joan Humphries were long time members of St Paul's.