Sunday, January 28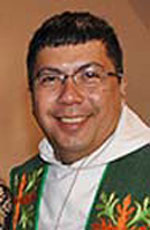 The Rev. Daniel Leatherman was born and raised in the Hawaiian Islands. Ordained an Episcopal priest, he has served in parishes and schools in Oklahoma, California, and Hawaii.  Currently, he is the Upper School Chaplain serving Intermediate and Secondary grades at 'Iolani School in Honolulu, Hawai'i. In addition to his duties as school chaplain, Fr. Dan is a Chaplain and commission officer in the Reserves of the United States Air Force.    His wife, Charmaine, is also an educator in the Hawaii Public Schools and they have one daughter, age 11.
Fr. Dan is taking advantage of a much-needed sabbatical leave from his school and looks forward to rest, renewal, blogging, and working on his Doctor of Ministry in Educational Leadership from the Virginia Theological Seminary, Alexandria, VA.
Check out his sermon on our weekly sermon's page.  We were delighted to have him visit us at St. Paul's.  Click on any image below to see larger images.
8698
none
none
true
true
true
Close
Next
Previous
The requested content cannot be loaded. Please try again later.