Deputy Rector's Warden
Diane Stecher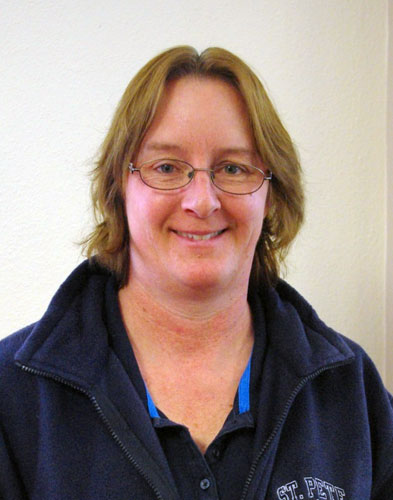 I am honoured and still a bit surprised, to have been asked to become the Rector's Warden, as it's a totally "new area" for me. Yet, I trust that God will help me serve the church well, as I learn more about the day to day operations of our church, and meet the people who keep everything running so well (in front, and behind the scenes).
Church Activities
Over the years, I have had various roles with the Anglican Church. At St. Paul's On-The-Hill, I sang in the 11am choir, was a part-time organist for the 7:45am service, played baritone horn on occasion, and helped with a small study group as a co-leader. I also attended a Cursillo Weekend, and then took on roles as Music Director, Tripod Editor, and Weekend Team Member. As a parishioner, I attended two A.W.A.R.E. conferences, and volunteered with the local food bank (run out of our church), and different church functions. Overall, I tried my best to pray, read the bible, and learn how to apply Christ's teachings in my own life.
Once I moved to the City of Kawartha Lakes, I continued to play organ at St. Paul's On-The-Hill, and organize musicians for Cursillo events, but I also began to attend services locally, at St. Paul's Lindsay. Gradually, I came to see "St. Paul's Lindsay" as my "home church", particularly since my own two daughters attended with me, and were happily involved in Sunday School, Youth Group, and other events. While, I was too busy with family and work to want to take on too much: my daughters and I either attended or helped at church events such as the Fall Fair Food Booth, Car Show, Vacation Bible School, and the Youth Fundraising Dinners.
Family Life & Career
In terms of growing up: My twin sister and I were born in Ajax, Ontario in 1962, and after our family moved to Scarborough in 1966, our younger sister was born. Over the years, we kept busy with the usual things: elementary and high school, family camping trips, church, music, sports, Brownies & Girl Guides, and exploring the Rouge Valley down the street. I became a Christian at a wonderful camp known as Camp Ambassador. As sometimes happens: our parents divorced and married other people, but my sisters and I managed to visit either parent, and get used to new "step-parents" and "step-siblings". Life wasn't always easy – but thankfully we "made it".
After high school, I went off to Queen's University and earned my Bachelor of Music, and Bachelor of Education Degrees. I attended Confirmation Classes at St. George's Cathedral and began to explore my own beliefs – as an adult. I also enlisted with The Governor General's Horse Guards as a Private in the band and over ten years – trained and moved up to become "Captain Stecher", the Unit Finance Officer. I enjoyed the challenges of military training, and serving our country – even though a few people joked that I looked a bit like "Private Benjamin" with my combat uniform and helmet.
In 1987, I began my teaching career, first with the Durham District School Board, and then York Region District School Board. While, my main goal was to teach high school music, I have taught several different subjects in the past 26 years: Music, English, French, Drama, and Special Education. For the past 11 years, I've been in charge of the Intensive Program – which helps students aged 14 – 21 with intellectual or developmental disabilities learn to become successful adults. This year, I also was asked to teach Guitar, and Piano to students in Grades 11 and 12 – so I'm thankful to be back in the Music Department , for part of the day.
What's next? I am looking forward to watching my daughters mature into young adults, and seeing the exciting things they do. Plus, I'm eager to retire from teaching in a few years, and have time to kayak, ride my motorcycle, renovate the house, and relax!
Diane Stecher