Incumbent, Rev. Bonnie Skerritt
Rev. Bonnie Skerritt is a cradle Anglican, born in Oakville, ON and raised in a family where many were active in church life. The grandchild of an Anglican priest, her early Christian formation included associating church life with family life. She has fond memories of Trinity, Port Credit where her grandparents served as priest and Sunday School Superintendent and her aunts and mother as Sunday School teachers.
As a teen she attended St. Margaret's (Elora) for three years, a school affiliated with the Diocese of Niagara. There, she was the first recipient of the Alumni Award for highest increase in overall average. It was during her time at St. Margaret's, that Bonnie had received her first calling to the priesthood. However, as a youth during a time when there was little support for women in the priesthood, Bonnie chose to ignore the calling at that time. However, the Holy Spirit was always nudging her and she remained involved in parish life through choir and Altar Guild.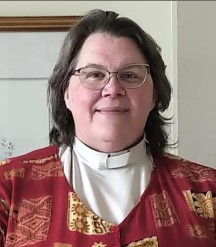 Much later in life, a Religious Studies course called, "Women in the Christian Tradition," proved to be life changing. This course empowered Bonnie as a Christian woman to begin to rethink her place in body of Christ and rejuvenated her spiritual journey. This ultimately led her to become a Lay Reader in the parish of Avon Valley, NS.
Bonnie became a postulant in the Diocese of NS & PEI in May 2015, her sponsoring parish being St Paul's, Halifax, where she served as Children & Youth Education Director for five years. During this time she also served the Church as Team Leader for the Youth & Family Ministries Team (Diocese of NS & PEI), a member of Diocesan Council and of the National Planning Committee for the Canadian Lutheran Anglican Youth (CLAY) Gathering held in Charlottetown in August 2016.
She served as a postulant at St Nicholas, Westwood Hills, NS; the Parish of French Village, NS; and at St John the Evangelist, Middle Sackville, NS, where she also served as ordinand and transitional deacon.
She graduated with both a Diploma in Youth Ministry and Master of Divinity from the Atlantic School of Theology in May 2019. She was ordained a deacon on the Feast of St Nicholas, 2018 and a priest on the Feast of the Ascension, May 2019. As a priest, Rev. Bonnie has served the Parish of Hatchet Lake & Terence Bay, NS and St George's, Newcastle, ON.
Alongside of her spiritual journey, Rev. Bonnie and her husband, Michael, have raised two daughters, Leslie and Pamela. They are currently raising their grandson, Liam along with their wee Westie, Rocky. Rev. Bonnie, Michael and Liam all look forward to re-locating to Lindsay and getting to know the people of St. Paul's.