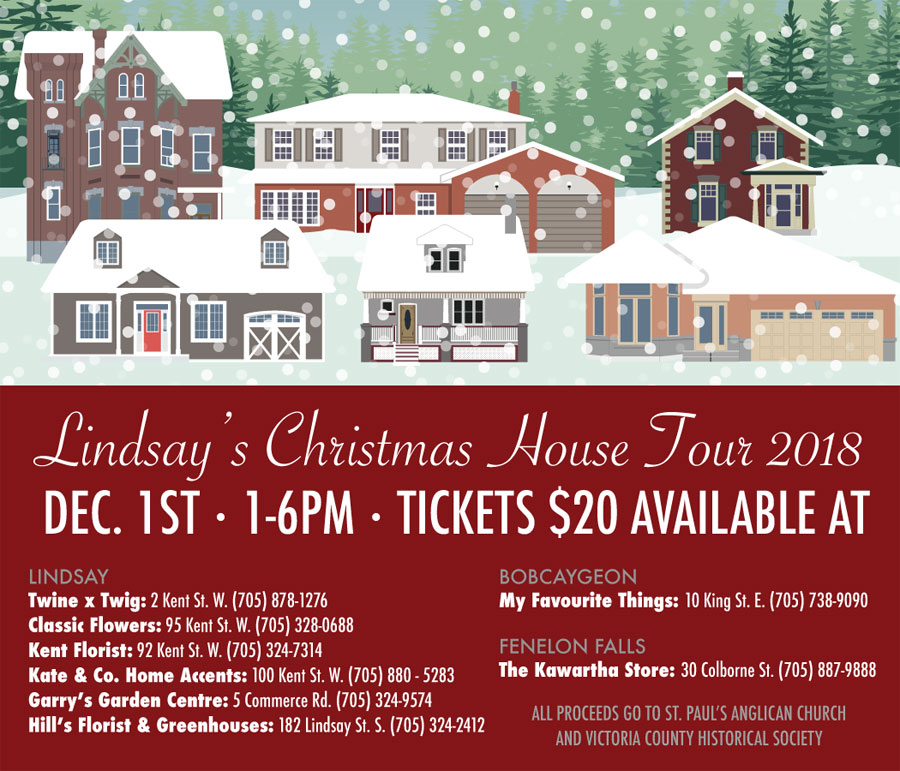 Organized by Lindsay's St. Paul's Anglican Church and the Victoria County Historical Society, the Christmas House Tour has become an annual tradition –
For over a quarter of a century now, hospitable homeowners have been inviting the public into their charming abodes, to admire their clever handiwork in making comfortable and attractive living spaces out of homes ancient and modern.
Houses
Take a stroll through 2 Green Arbour Way, a beautiful bungalow with a custom interior that reflects the many cultural and artistic interests of its owners.
Take in the inviting Arts-and-Crafts architecture which defines 13 Melbourne Street, a 90 year-old Craftsman-era home in one of Lindsay's most historic neighbourhoods.
Visit 218 Victoria Avenue North, a contemporary Cape Cod-style house exuding with the flavour of a rural Ontario farmhouse, reflecting as it does the rural roots of its owners.
Admire the soaring Queen Anne Revival house at 51 Cambridge Street North, once home to local newspaperman George Wilson.
At 53 Victoria Ave. N you will enjoy a Confederation-era home formerly owned by Col. George Weeks, a veteran of the First World War. This home shows its mid-19th century appearance.
Enjoy the antique lovers' paradise at 18 Applewood Crescent as well as the family art work adorning its walls.
Be awe-stricken at the ceiling in St. Mary's Catholic Church, Lindsay's oldest existing house of worship and rededicated in 2017 after an extensive restoration. (40 Russell St., Lindsay)
Explore the Olde Gaol Museum, complete with its exhibit halls decked out for the festive season. (50 Victoria Ave. N.)
A full roster of participating sites can be found in the Christmas House Tour ticket – a beautiful brochure that is available for $20.00 at the outlets listed below.
Visit the sites in any order you wish, and be sure to drop by Celebrations for some refreshments at any time during the afternoon! Here you will also see the change that the former Queen Street United church
Tickets are available:
Lindsay
Twine x Twig
Classic Flowers
St. Paul's Anglican Church
Olde Gaol Museum
Kent Florist
Kate & Co. Home Accents
Garry's Garden Centre
Hill's Florist & Greenhouses
Bobcaygeon
Fenelon Falls
Thank you to our Sponsors
Castle Keep
Kawartha Business Equipment
Lindsay Kia
Lindsay Buick GMC
Celebrations