4th Line Theatre 2021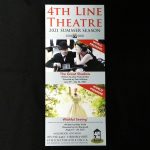 Gift Certificate for two to one show at 4th Line Theatre 2021 Season.
Value: $80
Reserve Bid: $40
Terms: december-2020-auction
Gail Payne bid C$40.00 on December 12, 2020 10:58 am
lewis bid C$30.00 on December 11, 2020 12:07 pm
Enter your email below to get notifications of new bids placed on the above item.
Shipping Details
Shipping: n/a
From: n/a
To: n/a
Payment Details
We will contact winners of any auction by phone and notify them for pick up information. Payment can be made through cash, debit, Visa or MasterCard.