2 Soapstone Loons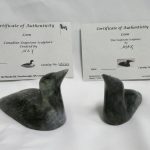 Two Soapstone Loon figures, signed and with certificate. 4"
Hand carved by Sculptor Max from natural soapstone so each one is unique in colour and pattern.
Value: $60
Reserve Bid: $25
Terms: december-2020-auction
Gloria Master bid C$40.00 on December 13, 2020 3:17 pm
SANDRA G LUGTENBURG bid C$35.00 on December 13, 2020 9:01 am
lewis bid C$20.00 on December 11, 2020 1:08 pm
Enter your email below to get notifications of new bids placed on the above item.
Shipping Details
Shipping: n/a
From: n/a
To: n/a
Payment Details
We will contact winners of any auction by phone and notify them for pick up information. Payment can be made through cash, debit, Visa or MasterCard.